If you aren't familiar with ART UNRAVELED-it is a week long Mixed Media Art retreat in its 7th year...in Phoenix, AZ. During the week--there are 1/2 day workshops taught by Famous Mixed Media Artists--then there is the "Venue" on Saturday for SHOPPING!!!
I went for the 1st time this past Saturday and I want to share some photos with you. I wasn't able to take many of the booths, since many of the Artists were selling their creations.
What type of Vendors were there? Well, Hannah Grey, The Queen's Dresser Drawers, Cat's Life Press, Tim Holtz and so many others!!!
I bought a handmade purse from the CRAFTY Chica--she is local and just so adorable! The Crafty Chica has a weekly column in the Newspaper and is on TV here. I have a link to her site--check it out!
So, as I am standing at one of the booths--I notice this gal with Red Hair...and I'm thinking "I KNOW her!!! Just HOW do I know her?" In my mind, I keep seeing her teaching a class??? I dunno..so I go up and ask her:
"
Excuse me, it is DRIVING me crazy, but where do I know you from
?"
She replies with a smile, "
Do you watch DIY, Craft Lab?
"
"
DUH!! Of course
!! The tattoos!!"
Here is a photo of me (having a BAD BANGS day, the Crafty Chica, and Jennifer Perkins from DIY Craft Lab).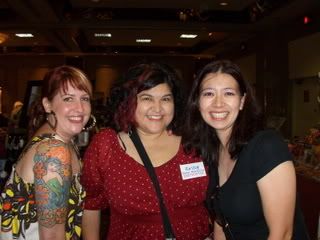 What do they have at the VENUE??? ONLY the COOLEST ARTSY Rubber Stamps, ephemera, Vintage photos, findings, charms, game pieces, Mixed Media Art, Crafty Junk,...all in ONE PLACE!!! It was like paradise!

In this next photo...is that who I think it is?? Of course!

Mr. Distress Inks

himself--Tim Holtz! And WHO are the two ladies in the photo with him?



Let me tell you--the lovely lady with the blonde hair is JUDY ROSS--she taught Tim about STAMPING years ago and to this day, he still credits her for that! Even when I was standing there he THANKED her! In ANY article you read about TIM--you will see Judy's name...and now you can put a FACE with the name.

Judy is co-owner of a Local Paper Arts store (my 2nd home!! Home away from Home!)--she's been on TV and published books..she is AMAZING!!! I LOVE learning from JUDY! She is the CUTEST person you'll ever meet! I didn't even know she was ON TV--until I saw her one day on DIY Scrapbooking with Sandy Genivese!!

The other lovely lady is Melanie and she worked with Tim...back when they worked at Ben Franklin's years ago. I met Melanie when she was teaching at Recollection's! She is such an AMAZING teacher, that I would ONLY take classes if she was teaching them! Now she works for Judy at the Paper Arts store.

Here are some photos of items I was able to snap photos of (with the owner's permission, of course) Cool stuff!


ENJOY!!